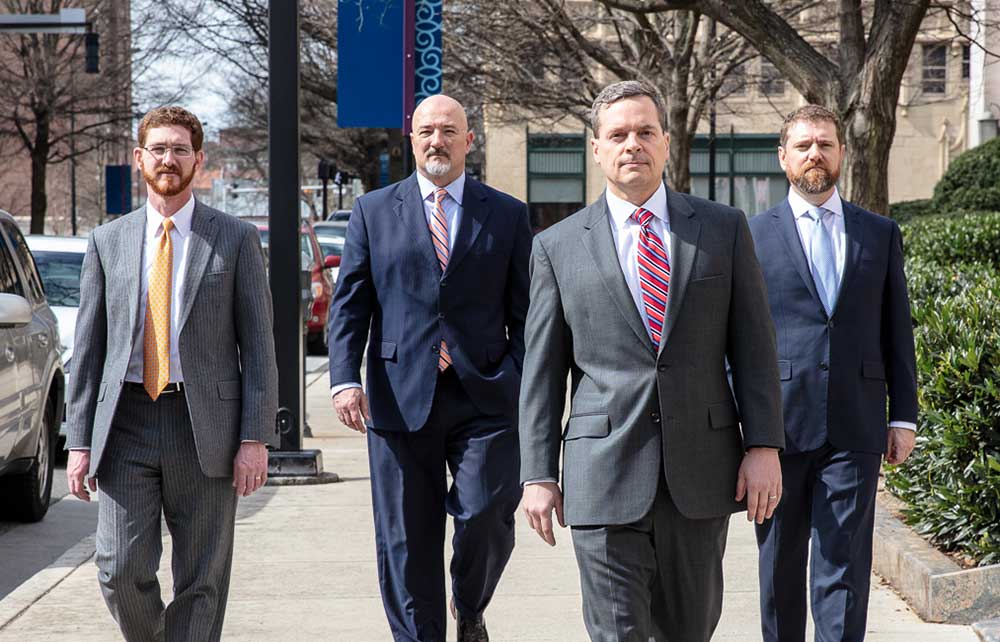 An amendment added to HB1029 and its companion bill SB1159 would change the face of the criminal justice system as it relates to underage offenders if the laws passed. Jonathan Cooper of Knox Defense was interviewed regarding this disappointing legislation on Thursday March 16:
"It's going to have a big difference both logistically and for the administration of justice in our courts," criminal defense attorney Jonathan Cooper said. "This does not just apply to the worst of the worst-charged children."
This article is originally published at News10's website here: https://www.wbir.com/article/news/politics/bill-could-uproot-juvenile-justice-system/51-73edb6b2-9cd8-4d0a-81c7-20b815885334/. It is memorialized in full below.
Tennessee bill could uproot juvenile justice system

The proposal, which is sponsored by Lt. Gov. Randy McNally and Speaker Cameron Sexton, would send all 17-year-olds to adult criminal court first.

Author: Grace King (10News)
Published: 6:38 PM EDT March 16, 2023
Updated: 6:38 PM EDT March 16, 2023

KNOXVILLE, Tenn. — A new bill making its way through the Tennessee legislature is sparking concern among criminal defense attorneys and Knox County's juvenile court judge. The amendment added to HB1029 and its companion bill SB1159 would send a number of kids straight to adult criminal court instead of starting them in juvenile court.

Lt. Gov. Randy McNally and House Speaker Cameron Sexton are the primary sponsors. "The juvenile justice crime legislation simply changes the court venue for certain violent crimes from juvenile court to criminal court," Sexton told 10News in a statement. "When a juvenile commits crimes like carjacking and aggravated burglary – which are serious and violent offenses – then they should appear in criminal court."

He said they've seen in a huge increase in juvenile crime in the big cities. "Obviously, the current process isn't working," he said. "It is time to tackle this issue." The proposal requires juvenile petitions to be filed in the appropriate criminal court for all children who are 17 at the time of the alleged conduct.

It requires the same for kids ages 14 to 16 at the time of alleged conduct who are charged with first-degree murder, second-degree murder, rape, aggravated rape, rape of a child, aggravated rape of a child, aggravated sexual battery when the victim is less than 13 years of age, aggravated robbery, aggravated burglary, especially aggravated burglary, kidnapping, aggravated kidnapping, commission of an act of terrorism, carjacking or an attempt to commit any such offense.

Kids who are 16 would face adult criminal court for robbery or attempted robbery, as well as any offense with a deadly weapon used. Kids under 14 would start in adult criminal court for first-degree murder, second-degree murder, or attempted first or second-degree murder.

"There's no reason for it and it's mean, vindictive and brutal… it's draconian," criminal defense attorney Mike Whalen said. "We're going to toss all those kids to those adult court judges who aren't trained or don't have the experience to deal with juveniles."

Knox County Juvenile Court Judge Tim Irwin told 10News he thinks this legislation is a bad idea. The public defender's office declined to comment, but said it could've affected about 270 area kids last year. Just three of them were transferred to adult court.

"It's going to have a big difference both logistically and for the administration of justice in our courts," criminal defense attorney Jonathan Cooper said. "This does not just apply to the worst of the worst-charged children."

In a subcommittee hearing on Tuesday, Rep. Mary Littleton (R-Dickson) in part blamed a Memphis juvenile court judge with a reputation against transferring kids to adult court. "Just last month, the Shelby County DA had 41 petitions against juveniles and only three were granted," she said. "Some crimes committed by juveniles are so heinous that they should be treated the same as adult crimes."

Lt. Gov. McNally said the intent behind his bill is simple. "Violent crime is out of control in Tennessee and sometimes that violence is perpetrated by juveniles," he said. "We must change the process so that criminal gangs can no longer use young people for violence with impunity."

Cooper said he's worried about what's in the bill and what isn't. "It's unfortunate to see that the lack of focus on rehabilitation is being removed from this statute," he said. "Most charges against children are for misdemeanors and minor offenses and those are usually handled informally, sometimes without judicial intervention."

It could also put an extra strain on the already busy criminal court system. "They're trying to rush trials in order to take care of that backlog, while at the same time having things like this new statute being proposed to dump a bunch of juveniles into a justice system that can barely keep up with what it's got right now," Whalen said.

The Knox County Sheriff's Office could also have extra responsibilities, although they did not respond to our request for comment. "They have to follow the law which requires that any juvenile defendant is kept separate visually and audibly from any adult inmate," Cooper said. "So, that creates a very large burden on our sheriff."

McNally said they will work on that if the bill passes. "If the bill does create a need for additional housing, transportation or capacity we can address that," he said. "The safety of our citizens is worth the price."

Full Statement from Speaker Sexton:

"The juvenile justice crime legislation simply changes the court venue for certain violent crimes from juvenile court to criminal court. When a juvenile commits crimes like carjacking and aggravated burglary – which are serious and violent offenses – then they should appear in criminal court. We have seen a huge increase in juvenile crime in our big cities – obviously, the current process isn't working, and it is time to tackle this issue."

Full Statement from Lt. Gov. McNally:

"The intent behind the bill is simple. Violent crime is out of control in Tennessee and sometimes that violence is perpetrated by juveniles. The safety of our citizens must be paramount. We must change the process so that criminal gangs can no longer use young people for violence with impunity. If the bill does create a need for additional housing, transportation or capacity we can address that. The safety of our citizens is worth the price."
This Article is republished in full at the News10 site here: https://www.wbir.com/article/news/politics/bill-could-uproot-juvenile-justice-system/51-73edb6b2-9cd8-4d0a-81c7-20b815885334